Purpose of the Tool
This Medication Therapy Problem (MTP) Documentation Tool was created by and for clinical pharmacists. It can be used to document patient-specific medication-related clinical interventions, track the resolution of each intervention, and create practice setting-specific reports on clinical pharmacist activities. It can also be used as a population management or research tool for the promotion of pharmacist-driven comprehensive medication management (CMM).
Individual clinics, pharmacies, inpatient units, or whole healthcare organizations can utilize this tool to systematically track the MTPs identified and resolved in their clinical practice settings.
---
Improve Patient Care
The primary goal of healthcare is to improve the health and well-being of patients. Medications play a large role in the treatment of many diseases and conditions – both acute and chronic. Appropriately designed medication regimens that align with clinical guidelines and take into consideration patient-specific factors are critical for optimizing patient outcomes, and thus should be a priority for any healthcare team. By assessing patients' medication regimens comprehensively, pharmacists can play a vital role in ensuring patients' medications are appropriate, effective, and safe, and that patients are adhering to their prescribed regimens to the best of their abilities. Identifying, addressing, and documenting the MTPs they encounter in practice can enable pharmacists to effectively track the interventions they make and ultimately assess which types of interventions lead to improved outcomes.
---
Improve Value by Reducing Costs
In addition to improving patient outcomes, optimizing patients' medication regimens by adequately addressing MTPs can lead to an overall reduction in healthcare costs. Missing opportunities to fix medication problems before they lead to further health complications can result in needless hospitalizations and billions of dollars of avoidable costs. The U.S. healthcare system currently spends more than $300 billion each year fixing medication-related problems (NEHI), an exorbitant cost that could be reduced significantly if healthcare teams were to focus more intently on proactively identifying and resolving medication therapy problems in a systematic and comprehensive manner.
See How the Tool Works
The MTP Documentation Tool has many features that can be useful in a variety of practice settings. Fundamentally, the tool allows you to track the Medication Therapy Problems (MTPs) identified, addressed, and resolved in your practice setting, by patient and by pharmacist. In addition to documenting the MTP interventions your practice makes, you can keep track of individual patients' medication lists, view all unresolved/pending MTPs, monitor interventions by specific patient populations, track patient-specific outcome metrics, and document social determinants of health (SDOH) related interventions. The Encounter Summary page allows you to view all interventions made during a single patient encounter. The reporting section of the tool auto-generates a variety of charts and graphs that reflect important MTP-related metrics, according to a timeframe you specify. Full data downloads are also available for the analysis of data not automatically summarized.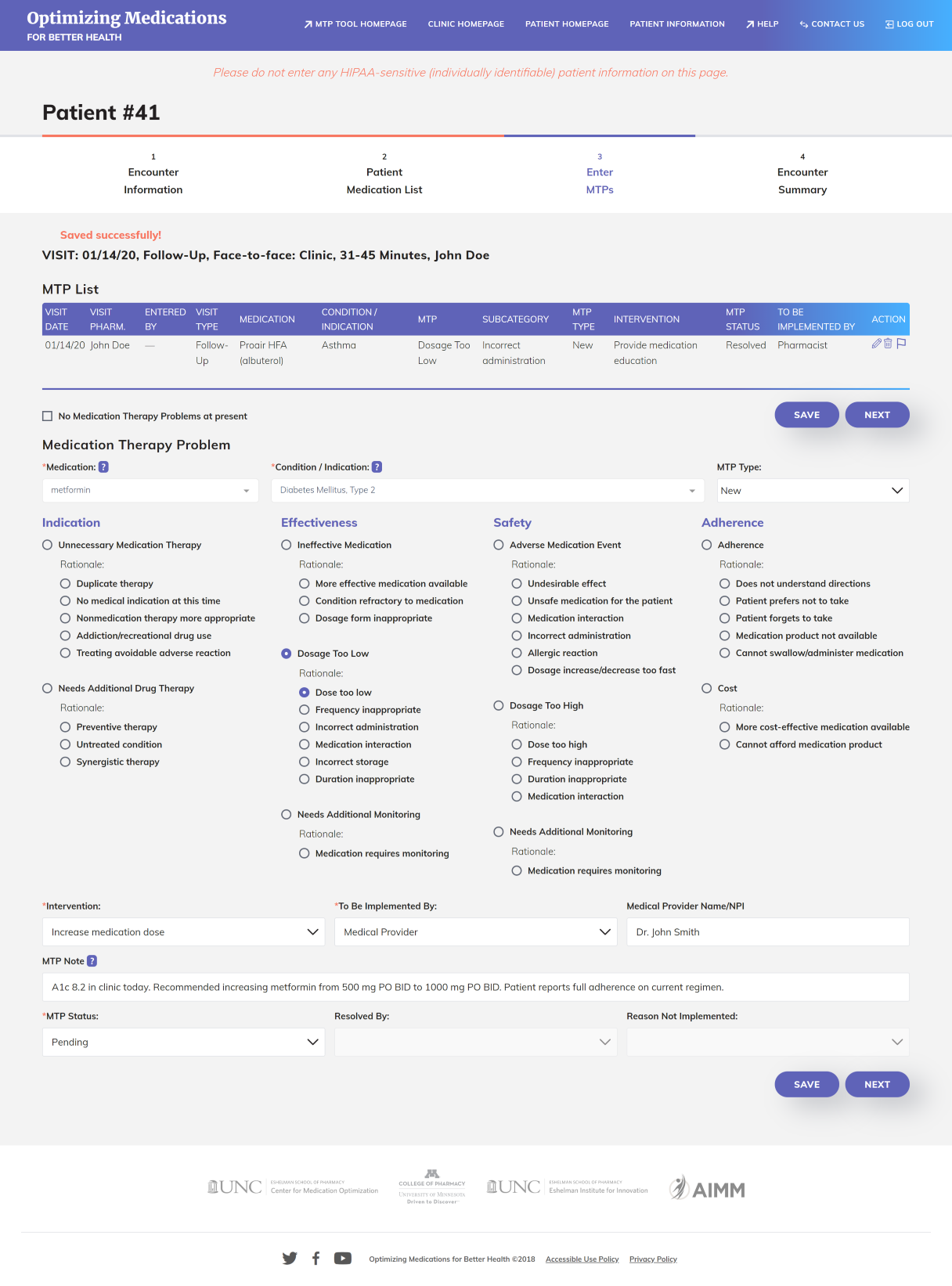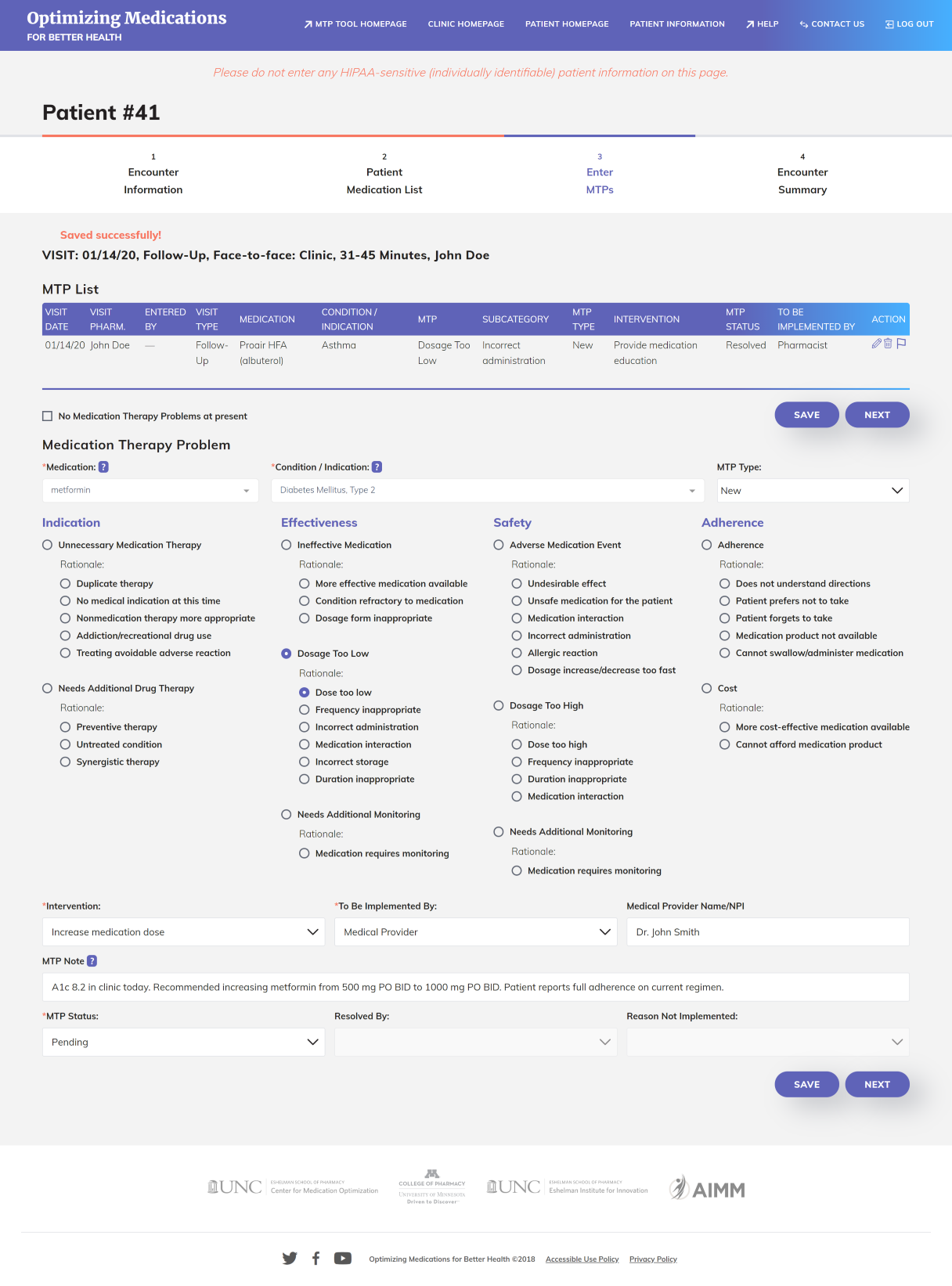 How Can I Sign Up to Use the Tool?
If you are interested in signing up to use our MTP Documentation Tool to track the medication therapy problems identified and resolved in your practice setting, or if you are simply interested in learning more about the tool, please sign up via this page. There is no cost associated with the use of the tool and no patient identifiers will be stored within the system. Signing up is as easy as the following: 1) Submit your name and email address; 2) Provide us some basic information about your organization; 3) Your organization and associated clinics will be added to the system; 4) Begin documenting! None of your information will be shared with outside entities, and all data entered into the tool will be stored on a secure server.
Sign Up to Use the Tool
Is your organization interested in using our MTP Documentation Tool? Sign up today and we can help you get the process started!
MTP Tool Access